Running Past News
We're switching our News page to our Twitter feed...
---
Catch Up to the Last US Woman to Win Boston at the Marathon Expo this April
March 23, 2015 - In 1985 Lisa Larsen Rainsberger won the Boston Marathon, a feat which no American woman has accomplished since. Lisa will celebrate the 30th anniversary of her victory by coming back to Boston this year, appearing at the Boston Marathon Expo where she will be signing her new book, "Thirty".
You can catch up with Lisa marathon weekend on Friday 2-4 pm, Saturday 3-5 pm and Sunday from 3 to 4 pm at Booth 1330.
---
New Balance Indoor Meet Sees Records
February 7, 2015 - At the Reggie Lewis Center in Boston fans saw a few records fall, including 40 year old Bernard Lagat running 7.48.33 to set a Masters World Record in the 3,000m.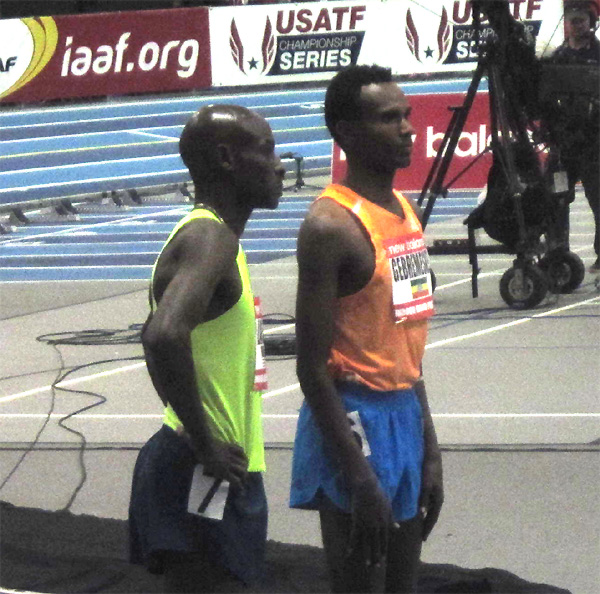 Bernard Lagat and Dejen Gebremeskai
Matt Centrowitz set a new meet record with a 2:17.00 in the 1000m.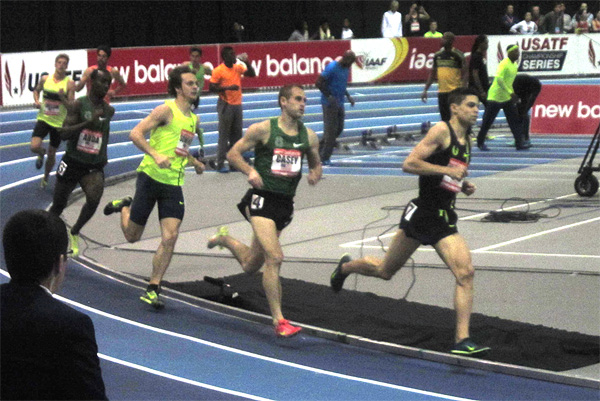 In a close finish Treniere Moser edged 18 year old phenom Mary Cain in the Women's 100m , running 2:37.86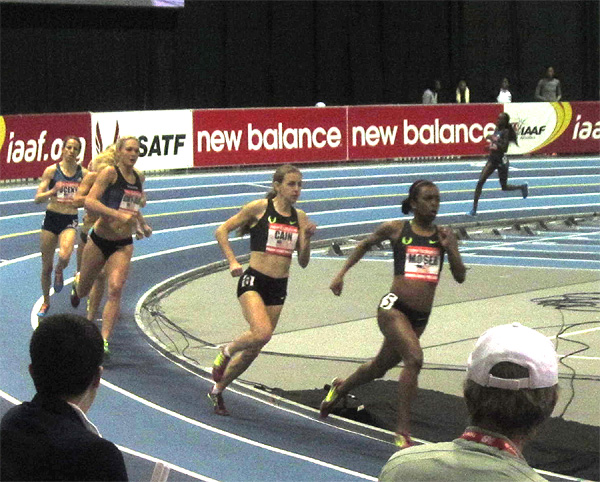 ---
Run With Billy Mills
October 8, 2014 - Fifty years ago this October, Billy Mills achieved his dream of winning Olympic gold in the 10,000 meter race in Tokyo. Billy and Running Strong for American Indian Youth ® want you join the celebration for the 50th Anniversary of Billy's gold medal run!
See: http://indianyouth.org/Anniversary
---
W. C. "Yank" Robbins Memorabilia Discovered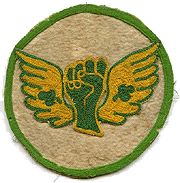 May 1, 2014 - We've just received a donation of a wonderful collection of personal memorabilia from William "Yank" Robbins, a 1908 US Olympian. He was involved in the most controversial race in Olympics history, resulting in the only "walkover" in an Olympic final.
Robbins was also a member of the "Winged Fist" Irish-American Athletic Club out of New York City.
Many thanks to his great niece Sharon Morris Leimenstoll and other family members for sending the memorabilia to us, we''ll present the collection here in all it's glory ASAP.
---
Autograph Alert - Boston Billy at the Marathon Expo
April 18, 2014 - You can catch up to Bill Rodgers on Saturday April 19th at the Boston Marathon Expo at the Hines Convention Center. He'll be at the Running Times Booth from noon to 2:00PM. Sadly Bill won't run the marathon this year due to a recent hamstring injury.
---
Dunkin' Makes a Run on Marathon Art
April 6, 2014 - Six Dunkin' Donuts stores along the Boston Marathon course will soon display a variety of Boston Marathon posters, lithographs and vintage photos from Running Past.

We've just delivered images of Boston Champions Bill Rodgers, Johnny Kelley and more that will bring local color and marathon history to stores near the final miles of the race.
---
Getting the Band Back Together
March 29, 2014 - The 2015 Napa Valley Marathon will re-unite the three 1976 US Olympic marathon teammates. Bill Rodgers, Frank Shorter and Don Kardong will all appear at the race.
---
Boston Billy On The Road - This Stop, Staten Island
September 28, 2013 - Bill Rodgers is coming to Staten Island, NY for a free event as his book tour continues. You can meet the legendary King of the Road at the Staten Island Hilton Garden Inn on October 30th from 7 to 9 that evening. Copies of his new book, "Marathon Man" will be available for purchase.
---
How the GBTC Became a Monster
September 27, 2013 - A new book, "History of the Greater Boston Track Club" has just been released, written by Paul C. Clerici. It documents the stunning rise of the dominant American track club of the 70s and 80s, featuring stars Bill Rodgers, Alberto Salazar and coach Bill Squires.
You can catch up with author Paul C. Clerici and get a signed copy at these events:
October 14
BIG SPORTS CARD & MEMORABILIA SHOW
Holiday Inn, 31 Hampshire St., Mansfield 8:45-12:30 p.m.
Bill Rodgers is also appearing separately

October 19
BOSTON BOOK FESTIVAL
Copley Square, Boston 10 a.m.-noon
November 9
CAMY 5K RUN & DAVID 5K WALK
Walpole Italian-American Club, 109 Stone St., Walpole (all day)
December 7
EIGHT COUSINS BOOKSTORE
189 Main St., Falmouth 4 p.m.
---
An Hour with Usain Bolt
September 22, 2013 - We usually get less than 10 seconds with Usain Bolt, but here he spends an hour with the BBC's Mark Pougatch discussing his life and times....
---
Boothing it at the Old Wethersfield 10K
August 24, 2013 - If you are running the Old Wethersfield, CT 5 or 10K on Sunday, August 25th, check out the Running Past booth. We'll have all our posters for sale, along with other interesting items...
Click here for information about the race.
---
Rodgers, Burfoot and Running Past to Appear at "Legends" Race
June 12, 2013 - A new four mile race, the "Legends Run" will take place at Wesleyan University in Middletown, CT on Sunday, June 30th.
Bill Rodgers and Amby Burfoot headline the celebrities running and RunningPast.com will make a rare real-world appearance, with a booth filled with many of our products. Stop by and see how awesome our posters are in person! Click here for race info
---
Billy Mills to be Honored at the White House
February 13, 2013 - On Friday, February 15th, Billy Mills will receive the 2012 Citizens Medal from President Obama. The Citizens Medal was established in 1969 to recognize American citizens who have performed exemplary deeds of service for their country or their fellow citizens.
Mills co-founded and serves as the spokesman for Running Strong for American Indian Youth, an organization that supports cultural programs and provides health and housing assistance for Native American communities.
Mills gained prominence during the 1964 Tokyo Olympics, when he unexpectedly won a Gold Medal in the 10,000 meter run. Today, he remains the only American to ever win this event. At the time Mills competed in the Olympics, he was a First Lieutenant in the United States Marine Corps.
After the Olympics, Mills, an Oglala Lakota, was made a warrior by his tribe. In 1986, Mills and Eugene Krizek, president of Christian Relief Services, joined forces to found Running Strong.
---
True "Tradition Run" Spirit
February 8, 2013 - The Tradition Run is a unique mid-winter race up a mountain in Meriden, Connecticut, and we have whole-heartedly supported it through the years. A quote from the local paper's coverage of this year's race made us laugh:
"Race officials said they never confirmed the name of the man who finished first because he ran back down the hill and left the park before they could speak to him."

Record-Journal
January 27, 2013
That's what the Tradition Run is all about. Not the first time it's happened either!
---
Boston Billy Celebrating Boston Sports this Month
December 2, 2012 - Bill Rodgers will speak at Foxwoods Resort Casino in Connecticut on December 10th, supporting the exhibit " "Victory: An Exhibition Celebrating Boston Sports" which runs through February. The exhibit will be expanded to include memorabilia about John J. Kelley, the 1957 Boston Marathon champion. For more info see TheDay.com.
---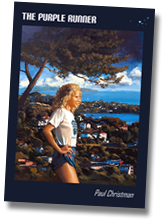 "The Purple Runner" Makes a Fresh Appearance
May 20, 2012 - Listed as one of the top ten running novels, "The Purple Runner" by Paul Christman is being re-released in paperback on May 30th, with new cover art by RP artist Andy Yelenak.
The Purple Runner concentrates on the stories of two runners, a New Zealand marathoner looking to break her cycle of mediocre marathons and a mysterious world-class runner with a disfigured face. The London Marathon serves as a backdrop for the spectacular and epic conclusion.
Written with a veteran runner's insight and with a flair for the dramatic it's an very entertaining book. You can pre-order here.
---
Bob Schul's Remarkable Gold Medal Performance - Now a Better Video!
March 18, 2012 - The video of Bob Schul's exhilarating race at the 1964 Tokyo Olympics is now available in much better quality on our Vintage Video page. Bob was kind enough to supply the link. You can read much more about his career at www.BobSchul.net
---
Bobbi Gibb and Bill Rodgers to Appear in Boston on April 17th
March 10, 2012 - Boston Billy and Bobbi Gibb will appear at Bill's store on Tuesday, April 17th, the day after the Boston Marathon, for those marathoners able to walk that day...
Check Bill's web site for more info BillRodgers.com
---
Billy Mills Profiled in Runners World
February 1, 2012 - Writer and former Olympian Kenny Moore has produced a brilliant article about Billy Mills in the March 2012 issue of Runners World Magazine. It's well worth the $4.99 cover price just for the in depth article, we'll link to it here when it appears online.
---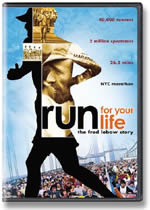 "Run For Your Life" Showing in Brooklyn and on WNET Thirteen - Great Marathon Prep!
October 24, 2011 - You can catch Judd Ehrlich's cinematic tribute to Fred Lebow the week of this years' NYC Marathon.
"Run For Your Life - The Fred Lebow Story" will be shown at the Brooklyn Museum on Thursday, November 3rd and it will also run on WNET Thirteen during race weekend.
In the film Emmy-nominated filmmaker Judd Ehrlich delivers the remarkable story of how one man ran New York and inspired millions to do the same. See our review here.
---
Bobbi Gibb to Complete Another "First"
June 24, 2011 - The first woman to run the Boston Marathon, Roberta "Bobbi" Gibb, will run the inaugural BAA 10K this Sunday in Boston, and on Tuesday she will be inducted into the Sports Museum of New England Hall of Fame.
---
Barefoot Running Society Focuses on Shoes
June 15, 2011 - BarefootRunners.org is running our article about Jim Fixx's Ruby Slippers along with another about the spikes that carried Roger Bannister under 4:00, check 'em out.
---
Live Streaming of the 2011 Boston Marathon
April 14, 2011 - Universal Sports is broadcasting the Boston Marathon and streaming it live online for $4.99 here.
Update October 14, 2020 - An interesting article on the demise of Universal Sports can be found here.
---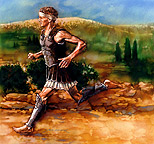 Pheidippides Runs Again
March 14, 2011 - The legend of Pheidippides will be revived once more in the May 2011 issue of Military History Magazine as they publish an article on the Battle of Marathon.

Accompanying the article will be an illustration of Pheidippides by Running Past artist Andy Yelenak.

---
Life is Tweet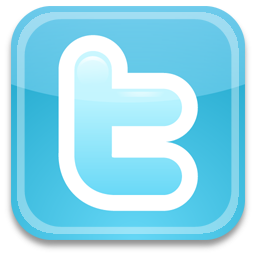 June 19, 2010 - If you'd like to be notified as soon as our new trivia question is posted or the latest winner is announced, follow Running Past on Twitter.

---

Marathon Artist Andy Yelenak Launches Online Gallery
March 11, 2010 - Running Past artist Andy Yelenak has rolled out a web site of his work, including many marathon posters and running related illustrations. His work is regularly seen in Marathon & Beyond Magazine and New England Runner.
Check it out at AndyYelenak.com
---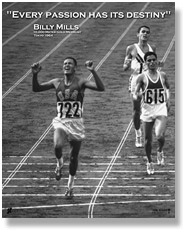 A New Billy Mills Poster Coming in February!
January 14, 2010 - Our printer is oiling up his presses and is ready to roll printing a brand new poster of Billy Mills.
It's a new design with a great photo of Billy breaking the tape as he became the only American to win Olympic Gold in the 10,000 meters.
We expect to take delivery and be ready to ship these posters during the first week of February. The poster will be available for $15.00 plus $5.00 shipping.
---
Top US Marathoner Ryan Hall Knows Cool When He Sees It
April 20, 2009 - In an interview with the Boston Globe, Ryan Hall, the best American prospect to have a good shot to win the Boston Marathon in 24 years, mentions finding inspiration in our poster of Bill Rodgers. From the Globe:
Legendary inspiration
At the Snowcreek Athletic Club, Hall usually spends a portion of every day working on his strength and flexibility with medicine balls, form drills, and balance exercises. And every day, he passes a photo of Rodgers winning the 1979 Boston Marathon. The word "Relentless" is printed across the image. Pointing at the poster, Hall commented, "This is what makes Boston so cool. They don't make posters of any other marathon."

When Rodgers heard about how the display inspires Hall, he called it "an honor," "kind of cool," and "a little strange." It was all of the above because Rodgers has such respect for Hall's talent and enthusiastic approach to the marathon.

"Ryan really goes for it," said Rodgers. "That's what you need to win. You've got to run strategically, but you've also got to run with that spirit. He has that."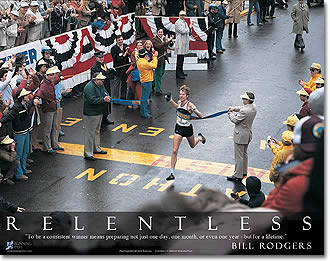 For us here at Running Past, that is extremely cool...
---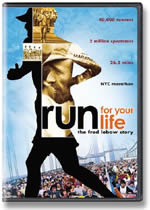 Get in a NY State of Mind with "Run For Your Life"
September 26, 2008 - A new documentary on the life and influence of NYC Marathon founder Fred Lebow will be in NY theaters during marathon weekend this November. For those of you outside the five boroughs you can order the DVD through Amazon.
Emmy-nominated filmmaker Judd Ehrlich delivers the remarkable story of how one man ran New York and inspired millions to do the same. For more information, see www.fredlebowmovie.com
See our review here.
---
Law & Order: Criminal Intent Investigates our "Pre" Poster
June 18, 2008 - An art director from the NBC series Law & Order CI has just requested permission to use our Steve Prefontaine poster in an upcoming episode. How they will use it is a mystery...A serial killer who runs? Death by paper cut? Watch for episode #19 of season 7 titled, "Legacy". To miss it would be a crime!
---
Linda Prefontaine Co-Authors a New Biography of Her Brother "Pre"
May 8, 2008 - Bree Donovan and Linda Prefontaine have just released Steve Prefontaine-Rocketman, a book intended for school children and young adults. Many interviews with Pre's teammates, competitors and coaches were conducted to create a complete picture of Steve's tragically short life. Here's hoping a new generation of runners can be introduced to the pursuit of excellence, Steve Prefontaine style. The book is available here.
---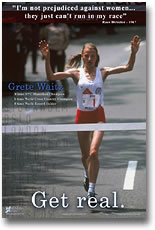 A New Poster from Running Past - Grete Waitz "Get Real"
April 8, 2008 - Grete Waitz is a pioneer of women's running. When women were not allowed to compete in long distance races in the Olympics, Grete showed the way by winning nine New York City Marathons and five World Cross Country Championships.
Our new poster highlights how Grete broke barriers through undeniable excellence, setting eight world records and leaving no room for argument.

Needless to say we are thrilled to offer this poster featuring Grete and her achievements. Copies are available now.

---
Free Running Past Stuff at the Tradition Run
January 11, 2008 - If you're running the Tradition Run in Meriden, Connecticut on Sunday, January 20th, be sure to stick around for the prize drawing. We're donating 5 posters, including two of Pre, and a Henry Rono autograph card to be given away after the run. For more info click here. Let's hope it snows!
---
"Once a Runner" Movie Hoax
December 2, 2007 - If you're a fan of John L. Parker's outstanding 1978 novel, "Once a Runner" you'll appreciate the web site www.oncearunnermovie.com.
Update 2009: the link is dead.
The site promotes the upcoming movie version of the book...Except there is no movie. The site was done with style and stays true to the spirit of the book, but apparently was a school assignment. Parker says he has sold the movie rights twice, but it has never progressed past that point. If only!
Just to give you a sample from the book;
"Cassidy sought no euphoric interludes. They came, when they did, quite naturally and he was content to enjoy them privately. He ran not for crypto-religious reasons, but to win races, to cover ground fast. Not only to be better than his fellows, but better than himself. To be faster by a tenth of a second, by an inch, by two feet or two yards than he had been the week or year before.

He sought to conquer the physical limitations placed upon him by a three-dimensional world (and if Time is the fourth dimension, that too was his province). If he could conquer the weakness, the cowardice in himself, he would not worry about the rest; it would come. Training was a rite of purification; from it came speed, strength. Racing was a rite of death; from it came knowledge. Such rites demand, if they are to be meaningful at all, a certain amount of time spent precisely on the Red Line, where you can lean over the manicured putting green at the edge of the precipice and see exactly nothing."
You gotta love it.
---
Classic Photos from the Running Boom Era
August 7, 2007 - Take a look at Leo Kulinski, Jr.'s album of awesome photos from the running boom years...Leo caught some of the greats with his camera and he has just added new scans to his web site here.
---
Hopkinton gets Ready for the Best...and the Worst
April 13, 2007 - Our spies in Hopkinton have supplied photos of the Boston Marathon preparations taking place in the soon to be busy hamlet. The big question, will it be April showers or a Nor'easter on race day?
---
What Goes Around Comes Around
April 2, 2007 - There is an interesting tidbit in the May issue of Runners' World. In our poster of Bill Rodgers, intended to inspire the next generation of runners, it seems Bill found inspiration himself...
From Runners' World "Warmups" section:
For Rodgers, 59, it's a word emblazoned on a poster of him winning the 1979 Boston Marathon. He used it at the 2006 White Rock Marathon. "I turned to my running buddy and shouted, 'Relentless!' I ran my best time of the year."
In terms of inspiration...Bill, we're happy to return the favor!
---
Henry Rono Teams Up with Running Past

March 31, 2007 - We are very happy to announce that Henry Rono has teamed up with Running Past to launch a new series of autograph cards. The #1 runner of 1978 and multiple world record holder graces the #1 card in our series of large cards that present biographical info and a portrait drawn by Running Past artist Andy Yelenak. Each card is personally autographed by the athlete. Look for more cards to be announced later this year.
Yelenak's artwork will also be seen in Henry Rono's new autobiography to be released early this summer.
---
Earliest Known Picture of the Boston Marathon Added to Our Vintage Photos Page

January 12, 2007 - We just acquired a beautiful panoramic photograph of the 1904 Boston Marathon showing Sammy Mellor leading at 22 miles. We have never seen this picture reproduced in any running book or magazine, so we are happy to bring it to your attention as part of our Vintage Photos collection.
Click on the thumbnail for a nice big scan of the picture.
---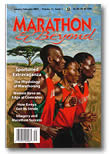 New Issue of M&B Looks Great with RP's Assistance
January 1, 2007 - Marathon & Beyond Magazine commissioned Running Past artist Andy Yelenak to paint "Team Kenya" for their January/February 2007 issue.
The article it illustrates is, "Perspectives on Kenyan Marathon Running" by Dr. Paul Martin. Check it out.


---
Collector Alert! - Sports Memorabilia Show this Weekend
October 31, 2006 - New England collectors have a great opportunity this weekend, its the 21st Annual GBSCC Sports Collectors Show at the Shriner's Auditorium in Wilmington, MA. The show is on November 3-5. This show is probably the best in New England and we're only telling you because we won't be going this year. ;-) Click here for detailed info.
---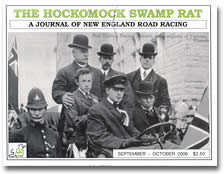 Longboat Graces the Cover of the 'Rat
August 10, 2006 - We can't think of a better place for one of our photos of the great Tom Longboat than on the cover of a true anachronism, The Hockomock Swamp Rat.
One of last hard core, no pain no gain, old school runners' magazines, the Rat knows running history and their Sept-Oct issue looks like a classic. That's Longboat seated, far right.
---
Burfoot Blogs
July 29, 2006 - 1968 Boston Marathon champ Amby Burfoot has entered the blogosphere with "Ambling Along", a site where you can find his thoughts-on-the-run. As executive editor for Runners World for almost 30 years, author and runner, Amby always has an insightful and intelligent take on all things running.
---
Hopkinton's Preparation for the 110th Boston Marathon

April 13, 2006 - Once again our spies in Hopkinton have provided top secret photos of Boston Marathon preparations in Hopkinton. Included are the nice wave starting line theme, the new Korean monument, logos marking special spots on the road, the new fence and gate at the cemetery and a special runners statue...
Click for large images - Photos by Pete Thalmann
---
Running Past Artist Andy Yelenak to Appear at the Boston Marathon Expo
April 12, 2006 - If you will be roaming the hall of the Boston Marathon Expo, stop by the Marathon & Beyond Magazine booth, marathon artist Andy Yelenak will be signing issues of the magazine sporting his cover art. Andy will appear with Johnny Kelley on Saturday from noon to 1:00 pm and on Sunday solo from 1:00 pm to 2:00 pm. Look for Dick Beardsley, Kathrine Switzer, Patti Dillon and Tom Derderian to appear other times throughout the weekend.
---
Running Past Posters will be Available at the Boston Marathon Expo
April 5, 2006 - Find your way to the Hartford Marathon booth at the Boston Marathon Expo Saturday and Sunday, April 15th and 16th, and you can purchase our posters of Steve Prefontaine and Bill Rodgers without those annoying shipping charges. Hope to see you there!
---
Artwork on the Way
April 3, 2006 - Running Past resident artist Andy Yelenak has a number of new projects soon to be unleashed on the running community. On April 13th his painting for the double foldout cover of Boston Marathon & Beyond Magazine will be unveiled at the "Cheers" Bar in Boston. This issue is a special 110th Boston Marathon Commemorative to be given to every entrant in this year's race and the cover shows famous moments and runners from Boston's colorful past.
For the 30th running of Grandma's Marathon in Duluth, Minnesota this June, Andy has painted a single fold out cover for the special issue, "Grandma's Marathon & Beyond." The painting is comprised of significant images from that unique and charming marathon.
In July the Distance Running Hall of Fame, in conjunction with the Boilermaker Road Race, will unveil a poster by Andy celebrating this year's inductees to the Hall as well as the 29th running of America's largest 15k road race in Utica, NY. We'll have info and pictures of each new painting as they are publicly unveiled.
---
IAAF to Auction Elite Athletes' Memorabilia
January 13, 2006 - The IAAF will auction all of the items donated by their Champions on www.ebay.com starting January 16, 2006. Further details about the Auction and the items that have been donated for the Athletics for a Better World - The IAAF Stars' Donation Fund will be posted at http://www.iaaf.org/AFABW/
---
Veterans Mural "Fighting for Freedom" to be Dedicated November 12th
September 26, 2005 - Running Past artist Andy Yelenak has worked for the past eight years on a mural to honor our Veterans. The painting is at the Major Raoul Lufbery VFW Post 591 in Wallingford, Connecticut and there will be a public dedication on November 12th. Posters of the mural are available for purchase and proceeds from the poster sales will be used for Veterans charities. To see the mural and for more information click here.
---
The Clock is Ticking on "Four Minutes"
Update - September 25, 2005 - ESPN2 will broadcast their production of "Four Minutes" on October 6th, check your local listings for the exact time.
May 14, 2005 - Production has begun on the ESPN movie "Four Minutes," the story of Roger Bannister's pursuit of the first sub four minute mile. Expected to be broadcast on ESPN2 in October, the movie will star Jamie Maclachlan as Bannister with Christopher Plummer playing track coach Archie Mason.
The race for the first four minute mile movie continues as a feature film based on Neal Bascomb's book "The Perfect Mile" will begin production in June. This film will also tell the story Bannister's landmark achievement.
---
Eurosport.com - Listen to Events Live!
July 23, 2005 - If you are as frustrated as we are by the limited live coverage of running events we get here in the US, you have to check out one of our favorite links, Eurosport.com. This site provides live audio of top events from around the world. They will have coverage of the upcoming World Track & Field (or as the Brits say, "Athletics") Championships in Helsinki as well as many others.
When Alan Webb attempts to break Steve Scott's American Record in the mile, this is the place to hear it...Here's a link to their broadcast schedule and here is a direct link to their current audio broadcast.
---

Nike Remembers Pre
May 30, 2005 - On the 30th anniversary of Steve Prefontaine's death Nike has a nice tribute to him on their site. They have some great footage in a short commercial about Pre available for download and his story in a Flash presentation...See it here.
---
Hopkinton Gets Ready for the 109th Boston Marathon

April 14, 2005 - Our spies in Hopkinton tell us marathon preparations are well under way. Last week the "doughboy" statue that overlooks the starting line was cleaned and buffed, the entire commons lawn area was swept of small twigs and debris, the streets were cleaned and all the parking lines and crosswalk lines were repainted.
On Tuesday, April 12th, the "It All Starts Here" sign was placed on the commons and on Wednesday the starting line was painted with a special tribute to the late Johnny Kelley.
The big question is will the the starting line remain unmarked until Monday? In the past some hot rodders have been known to spin their tires across the starting line, leaving a strip of rubber and causing the BAA to have it repainted at the last minute...
Click for large images - Photos by Pete Thalmann
---
Kip Keino Coming to Ohio on April 24th
April 12, 2005 - The father of Kenyan distance running, Kip Keino, will make an appearance at the Columbus Running Company in Dublin, Ohio on Sunday, April 24th. Kip is a two time Olympic Gold Medalist and has held World Records for the 3000m and 5000m. This is a wonderful opportunity to meet one of the all-time greats.
For information on Kip's visit, click here.
---
Going to the Boston Marathon Expo? Check out our Posters in Person...
April 11, 2005 - If you're coming to Boston for the marathon, visit the Hartford Marathon's booth at the race expo. Our posters of Bill Rodgers, Billy Mills, Steve Prefontaine and Emil Zatopek will be available there. I'm sure you'll be impressed and you can save with no shipping costs!
The Expo will be open Saturday and Sunday, April 16th and 17th and is at the Hynes Convention Center, adjacent to the Pru.
---
Runner's World Names Us Your "Secret Source"
March 31, 2005 - Our good friends at Runner's World (thanks Amby!) gave us a mention in their May 2005 issue, calling Running Past a secret source for Boston Marathon memorabilia. We plead guilty...Now if we could just lose the "secret" part!
---
"Four Minutes" Coming this Fall
March 11, 2005 - ESPN2 is producing a movie based on Roger Bannister's pursuit of the first sub-four minute mile. Written by Frank Deford of Sports Illustrated and with Bud Greenspan as executive producer, with any luck we may have another excellent running movie on our hands. Watch for it this fall.
---
"Chariots of Fire" Finally Gets the Royal Treatment
January 21, 2005 - The classic film from the running boom years, "Chariots of Fire", will soon be released as a special edition, 2 disc DVD. The movie will be presented in all its widescreen glory, previously available only in the european release, with 5.1 Dolby Digital Surround Sound, a "making of" feature and other background info. We have been waiting for this deluxe edition for years and will happily provide a full review as soon as the discs arrive. The release date is February 1, 2005. You can pre-order at Amazon now.
"Then where does the power come from, to see the race to its end? From within."
Eric Liddell
---

Running Past Posters will be Raffled Off at the Tradition Run
January 1, 2005 - If you've got the guts to tackle the 36th Annual Tradition Run, your reward could be one of our posters. Running Past is donating posters of Steve Prefontaine, Bill Rodgers, Emil Zatopek and Billy Mills as raffle prizes for entrants of this year's run on January 23rd. Good luck and see you there!
---
Running Past Provides Authenticity for "Boston Legal"
October 8, 2004 - The ABC TV show "Boston Legal," starring William Shatner and James Spader, will soon have an extra touch of authenticity. Running Past in conjunction with the Art of Running has supplied Boston Marathon posters to be used as set decoration on the show. A cafe frequented by the characters will now have Andy Yelenak's Boston Marathon artwork on it's walls.
---
Running Past Sponsors "Mister Rodgers' Neighborhood" at the Hartford Marathon
September 23, 2004 - If you are coming to Hartford for the Marathon on October 9th, be sure to stop in the tent marked as "Mister Rodgers' Neighborhood". Bill Rodgers will appear at the tent along with memorabilia from his career, and posters of Bill will be available for signing.
All of Running Past's posters will be available at the event, and we will unveil of our brand new Steve Prefontaine poster, "It's More Than Just a Race." See you there!
---
Running Past Posters Will be Given Away at a Connecticut Road Race...
August 21, 2004 - We have donated copies of our Steve Prefontaine, Bill Rodgers and Emil Zatopek posters to the 2nd Annual Keney Park 5K to be run on August 22 in Hartford. The posters will be awarded after the race along with vintage Jesse Owens and Roger Bannister Sportscaster Cards we supplied.
---
1908 Olympic Marathon Gold Medalist Johnny Hayes Profiled on Running Past...
July 16, 2004 - Johnny Haye's daughter, Doris Hayes Hale, passed away recently and she was
gracious enough to give her collection of Johnny Hayes memorabilia to the Shore Athletic Club of New Jersey, with the understanding that it be used to preserve and enhance his memory.
To help fulfill that wish Running Past, in cooperation with the Shore Athletic Club, has created a biography page for Johnny featuring some of that memorabilia. You can view that profile here.
---
Zatopek Biography Reprinted...



June 20, 2004 - Parrs Wood Press in the UK has announced it's second printing of the Emil Zatopek biography by Bob Phillips. This second edition will feature a cover illustration by Running Past artist Andy Yelenak.
---
A New Poster of Pre! Coming Soon...
June 4, 2004 - Running Past is proud to announce that we have reached an agreement with Steve Prefontaine's family, along with Pulitzer Prize-winning photojournalist Brian Lanker, to produce a new poster of Pre. The poster will feature Mr. Lanker's well-known and stunning portrait of Steve. We expect the poster to be available in late summer.
---
Running Past Posters will be Available at the Boston Marathon Race Expo
April 11, 2004 - If you're coming to Boston for the marathon, stop by the Hartford Marathon's booth at the race expo. Our posters of Bill Rodgers, Billy Mills, Pre and Emil Zatopek will be available there. Check 'em out and you can save with no shipping costs!
The Expo is at the Seaport World Trade Center and will be held April 17th and 18th, 9 am to 6 pm each day. For directions click here.
---
Coming in April - A Special Running Past Contest
March 22, 2004 - Predict the winner of the 2004 Boston Marathon! Enter our 10th Anniversary contest in April, everyone who guesses correctly will win their choice of one of our posters of Steve Prefontaine, Billy Mills, Bill Rodgers or Emil Zatopek.

One correct entrant who is selected as the Grand Prize winner could also choose one of our autographed limited edition lithographs, "A Boston Legacy", "Billy's Breakthrough" or a 2004 Boston Marathon litho signed by the artist.
---
New Projects from Running Past Artist Andy Yelenak
January 10, 2004 - Coming this spring from artist Andy Yelenak, the 2004 Boston Marathon poster, a Marathon & Beyond Magazine cover featuring Peter Snell and Arthur Lydiard, and the artwork for the new children's book Run Dad Run from Breakaway Books. All three projects are in development now and we'll have features about each soon!

See the portraits of Arthur Lydiard and Peter Snell

A Sneak Preview of the 2004 Boston Marathon Poster
---
Get a Free Poster from Nike
December 12, 2003 - You can get a free poster from Nike just for asking...and Steve Prefontaine is on it. Just go to www.borderclash.com/poster_request.html and fill in the form!
---
Jim Peters Video Coming Soon
November 7, 2003 - Running Past has just acquired a triple bill of four time marathon world record holder Jim Peters video clips, including Jim in highlights of the 1954 Boston Marathon and the devastating footage of Jim finishing the 1954 Empire Games Marathon in Vancouver. The clips will appear on our Vintage Video page as soon as we have them transferred.
---
The Big Apple has Art at its Core
October 18, 2003 - For the fifth consecutive year Running Past artist Andy Yelenak has painted the official poster for the NYC Marathon. A sneak preview is available here.
---

New Video on Running Past - The 1959 Boston Marathon
September 29, 2003 - We have just added the highlights of the 1959 Boston Marathon to our video collection. Take a look at a great duel between Johnny Kelley and Eino Oksanen here!
---
Steve Prefontaine's Autograph Scores Big for a Collector
August 9, 2003 - The auction of an autographed 8.5" x 11" photograph of Steve Prefontaine just ended with the winning bid at $1,175.00 plus shipping. Wow. The seller said:
"I was astonished at the sales price. I'd searched the internet for previous sales of Pre autographed photos and thought perhaps I'd get between $300-$500, so when the final day's bidding began at $300, I thought I'd guessed correctly.

When the bidding accelerated during that final day, I couldn't believe it. Sadly, at one time I had two autographed photos of Pre, but haven't a clue where the other is hidden."



---
Steve Scott Bobblehead Doll Raises Money for Cal State San Marcos Track & XC

June 3, 2003 - Steve Scott, the American record holder for the mile, has had a bobblehead doll created in his image to raise money for the athletic scholarship program at Cal State San Marcos, where he is a coach. Only 347 are being made available for sale (his mile record is 3:47) and all the bobblehead dolls have been autographed by Steve.
Check here for ordering info from the school.
Update 11/22 - They are sold out.
---
Sportscaster Cards - New Inventory Now Available
May 22, 2003 - Running Past has just acquired an extensive collection of Sportscaster Cards, the comprehensive Track & Field set from the late '70s. We now (as of today) have every card in the set available for purchase, including the highly collectible Steve Prefontaine cards and the rare Babe Didrikson card. You can view our inventory on our Sportscaster Cards page.
---
Hall of Fame Weekend Poster - Painted by Andy Yelenak
May 15, 2003 - The artwork has begun for the 2003 National Distance Running Hall of Fame and Boilermaker 15K Race Poster. Follow along here as Andy Yelenak creates the painting for this year's poster.
---
Site Search Up and Running
April 16, 2003 - In our ongoing effort to make using this site easier, we have installed Google's Site Search. It's now available on every page in the upper right corner.
---
Another New Poster from Running Past - Boston Billy!
January 1, 2003 - Bill Rodgers will soon be available in full color glory on a new poster by Running Past, produced in conjunction with Bill Rodgers Running Center. The poster will feature a gorgeous shot of Bill winning the 1979 Boston Marathon. We expect it to be ready by early February.
Update April 11 - This poster is now available! View it at Bill Rodgers - Relentless.
---

Emil Zátopek Footage Available for Download
April 1, 2003 - Emil Zátopek's 1952 Olympic triple gold medal performance is the stuff of legends, but now you can witness his amazing victory in the 5000 meter final. Video of the stunning last lap can be downloaded at our Vintage Media page.
---
Autograph Alert - Tim Broe & Meb Keflezighi to Appear in NYC
March 30, 2003 - The NYRR is holding a race clinic and autograph session with the 2002 USA 8K champion Tim Broe and Meb Keflezighi, the current 10K American record holder. The event will take place from 6:00 pm to 7:00 pm on Thursday, April 3, at the New York Road Runners offices, 9 East 89th Street in New York City. Seating is limited.
Both runners are in town for the 2003 USA 8K Championship to be run on Saturday, April 5th, in Central Park.
---
Final Nominees Named for the National Distance Running Hall of Fame - Inductees Portraits will be Painted by Andy Yelenak
March 15, 2003 - The National Distance Running Hall of Fame has narrowed it's list of nominees for for this year's induction to eight; Buddy Edelen, Miki Gorman, Gerry Lindgren, Jim Ryun, Bob Schul, Mary Decker Slaney, Fred Wilt and George Young.
Three runners will be selected from this list to comprise the class of 2003, their induction to take place on Hall of Fame Weekend, July 12th and 13th in Utica, NY. Running Past artist Andy Yelenak has been commissioned to paint portraits of the inductees for the Boilermaker/Hall of Fame Weekend poster that will be available at the event.
Once the Class of 2003 has been announced on April 19th, you can follow the development of the painting on this web site.
---
Running Past Products Available at the 2003 Boston Marathon Expo
March 14, 2003 - If you'd like to see our posters of Pre, Billy Mills and Bill Rodgers in person and save shipping charges, check 'em out at the Boston Marathon Expo. The Hartford Marathon booth will have our Steve Prefontaine and Billy Mills posters for sale, and Bill Rodgers Running Center will have our new Bill Rodgers poster.
The Expo takes place at Hynes Convention Center in Boston and is open from 9:00 am to 6:00 pm on Saturday, April 19th and Sunday, April 20th.
---
Running Past Unveils a New Logo
November 10, 2002 - After 8 years in operation, Running Past finally has an official logo. The winged foot is a classic symbol that has represented running clubs and track teams for many decades and we are happy to adopt it. Our new logo is in the upper left corner of this page.
---
Johnny Kelley - Then and Now
October 23, 2002 - Running Past artist Andy Yelenak has been commissioned to paint marathon legend Johnny Kelley for the cover of Marathon & Beyond Magazine. See how it's done here.
---
Autograph Alert - Khannouchi, Shorter, Rodgers, and Samuelson to Appear at Falmouth
July 22, 2002 - Marathon World Record holder Khalid Khannouchi will appear at the Falmouth Road Race Expo this August along with Frank Shorter, Bill Rodgers and Joan Benoit Samuelson. They will attend an autograph signing from 3 to 4 p.m. on Saturday, August 10th at the Gus Canty Recreation Center, 790 East Main Street, Falmouth, MA.
Other running champions are promised to appear as well...We don't know who, but last year Catherine Ndereba was a surprise guest.
*Late Additions - U.S. Olympians Suzy Favor Hamilton and Amy Rudolph will compete in the Eighth Annual SBLI Falmouth Invitational Mile on Saturday evening, Aug. 10.
---
Women's World Record Smashed at NYC Mini 10K
June 8, 2002 - Asmae Leghzaoui of Morocco set a new world record for a 10k road race by running the Central Park loop in 30:29. An Olympic quality field and a cool bright morning helped Leghzaoui break the old record by 10 seconds.
Running Past's camera was there...Our coverage.
---
The National Distance Running Hall of Fame Announces its 2002 Inductees
April 12, 2002 - John J. Kelley, Bill Bowerman, Doris Brown Heritage and H. Browning Ross have been chosen as this year's inductees to the National Distance Running Hall of Fame in Utica, NY. Running Past artist Andy Yelenak has been commissioned to create a poster of the inductees which will be given away at the ceremony in Utica on July 13th. The ceremony is open to the public. View the poster.
For background information on the class of 2002 see the Hall of Fame's web site at www.distancerunning.com
---
More Vintage Video is on the Way
April 2, 2002 - 45 years ago this month Johnny Kelley became the first and only B.A.A. member to win the Boston Marathon. Very soon you'll be able to witness his victory for yourself! We have acquired newsreel footage of the 1957 Boston Marathon and once we get it converted it will be available for download on our Vintage Video page.
---
Running Past to Launch New Web Site Design
March 23, 2002 - Make it easier to use, that was our goal. Our new design will allow you to get to the information you want faster and will indicate exactly where newly listed items are located. We expect to launch the new design by April 1st.
---
Pheidippides Comes Alive on Marathon & Beyond Magazine
February 27, 2002 - Running Past artist Andy Yelenak has painted the mythical first marathoner Pheidippides for the cover of the March/April issue of Marathon & Beyond magazine.

Legend has it that the Greek Pheidippides ran across the plains of Marathon to deliver the message that the Greek army had defeated the Persians in battle.

Arriving in Athens Pheidippides gasped, "Rejoice, we conquer..." and then he died. Yelenak portrays the great runner in full armor running barefoot across the plains of Marathon in 490 B.C.
---

The 1964 Olympic 5,000m Final Now Available for Download
February 17, 2002 - The 1964 Tokyo Olympic Games 5,000m is known as one of the most dramatic races in US Olympic history. Video of the final 1/2 mile of that race can now be downloaded at our Vintage Media page!
---
"Running Encyclopedia" Hits the Shelves with a Little Help From Running Past
January 11, 2002 - Rich Benyo and Joe Henderson have compiled an encyclopedia of distance running, covering the history, personalities and lore of the sport.

Running Past contributed pictures of running memorabilia to illustrate the book. For a more complete description go to the Running Encyclopedia.
---
Artwork Exhibited at the National Distance Running Hall of Fame
November 16, 2001 - The National Distance Running Hall of Fame in Utica, NY is hosting an exhibit of artwork by Running Past artist Andy Yelenak. Works shown include original paintings for the Boston and NYC marathons as well as illustrations that have appeared on the cover of Marathon & Beyond Magazine. The exhibit will run through April of 2002. Contact the Hall of Fame at 315-724-4525 for more information.
---
We've Improved Our "Sportscasters Cards" Page
October 31, 2001 - It's now easier to view all the cards on our Sportscasters Cards page. We've added some cool javascript to make it easier to access all the pictures without having to leave the page. Check it out!
Sportscasters cards are track & field cards from the late '70s that include hundreds of your favorite running stars from that era.
---
Autograph Alert - Shorter, Burfoot, Kelley and Merrill to Appear at Mystic Places Marathon Expo October 27th
October 7, 2001 - Meet and greet Frank Shorter (Olympic Marathon Champ), Amby Burfoot (Boston Marathon Champ), John Kelley (Boston Marathon Champ) and Jan Merrill (former 5K World Record Holder) at the Mystic Places Marathon race expo at Rocky Neck State Park. The expo runs from noon to 6:00 pm on Saturday, October 27th. Call the race director at 203-481-5933 for more info.
---
The Greater Hartford Marathon Adds Sports Art Exhibit to it's Schedule
August 23, 2001 - The Greater Hartford Marathon has become a week long festival and this year an exhibit of sports artwork is the first event on the schedule. Running Past artist, Andrew Yelenak, will display 35 original pieces of marathon and sports related artwork at the Old State House at 800 Main Street in Hartford, CT from October 4th through November 2nd. The exhibit is sponsored by The Hartford Insurance Company.
Yelenak has painted the Greater Hartford Marathon poster for the past five years in addition to creating artwork for the Boston and NYC marathons. His work also appears in Marathon & Beyond Magazine.
Autograph Alert - Running legend Bill Rodgers will appear at the opening reception for exhibit on October 11th from 5-7 pm and at other GHM events during race week.
---
Rare Boston Marathon Footage Unearthed by Running Past - Soon to be Available Online
August 8, 2001 - A vintage newsreel of the 1961 Boston Marathon has been acquired by Running Past. The short film covers the duel between Eino "The Ox" Oksanen of Finland and Johnny Kelley (The Younger).

The action is presented in classic newsreel style, with humorous commentary and cheesy "sports" music. We witness 166 runners at the start in Hopkinton, the leaders progressing through Framingham, Natick and past the Wellesley College girls, all in glorious black & white.
Kelley and Oksanen are seen battling over the Newton Hills and the infamous dog that would trip Kelley and decide the race makes a cameo appearance.
We have an outstanding transfer from the original 16mm film and as soon as we work out the technical aspects the video will be available here.
---
Autograph Alert - Rodgers, Shorter and Pippig to Appear at Falmouth Race Expo
July 27, 2001 - Olympic Marathon Gold Medalist Frank Shorter and Boston Marathon champions Bill Rodgers and Uta Pippig will be appearing at the Falmouth Road Race Expo from 3 to 4 pm on Saturday, August 11th. The Expo is held at the race headquarters at the Gus Canty Recreation Center, 790 East Main Street, Falmouth, MA. Boston and Chicago Marathon Champ Catherine Ndereba of Kenya showed up too!
---
Bobbi Gibbs' Book Available Through Running Past
May 15, 2001 - Roberta "Bobbi" Gibb has agreed to offer her self-published book, "To Boston With Love - The Story of the First Woman to Run The Boston Marathon", for sale through Running Past. Autographed copies will be available by June 1st. Available now in our books section!
You won't find this at Amazon...
---
Boilermaker 15K Road Race Commissions Poster for 2001 Race
April 13, 2001 - The Boilermaker Road Race Committee has commissioned Running Past artist Andy Yelenak to create a poster for the 2001 edition of the 15 kilometer road race. The poster will be available for purchase at the road race, the race expo and online at www.boilermaker.com
Yelenak has previously created posters for the Boston, New York City and Hartford Marathons. The development of the poster can be followed here at The 2001 Boilermaker 15k Poster.
---
National Distance Running Hall of Fame Inductees to be Honored with Artwork
April 17, 2001 - The National Distance Running Hall of Fame in Utica, NY will honor their class of 2001 inductees with a special commemorative poster painted by marathon artist Andy Yelenak.
The inductees for the Class of 2001 are Bill Dellinger, Craig Virgin, Fred Lebow and Lynn Jennings. The poster will be available during induction weekend, July 7-9 of this year, at the National Distance Running Hall Of Fame.
---