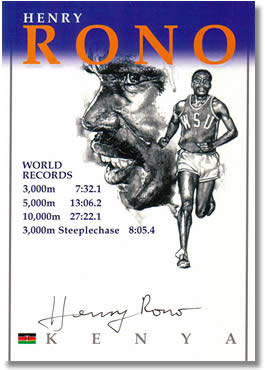 This large card measures 5" x 7" and
comes in a rigid plastic holder.
Henry Rono (Kenya)
Autograph Card
#1 in a series from Running Past

This is a brand new project for us, the beginning of a series of cards of great runners, autographed especially for Running Past.
Henry Rono was the #1 ranked runner in the world in 1978. He set 4 world records in 81 days and was one of the most outstanding talents in the history of running.

$22.00 includes shipping
Please e-mail us to reserve one.