Run Dad Run!
A Children's Book
Andy Yelenak, the illustrator of the book, discusses the project:
In September of 2003 I was asked by Garth Battista, publisher of Breakaway Books, if I'd like to illustrate a children's book. I've never worked on a project that required so many paintings, 29 in fact, so I hesitated a second before saying yes.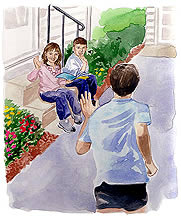 What really sold me on the project was that the story centered on a 6 year old boy and a 5 year old girl, and I just happen to have grandchildren those ages. I thought it would be fun to have them as models for my illustrations.
The story was written by Dulcibella Blackett and involves two kids who have a dad who runs, and one day their dad has to run to the rescue. In all my years of running, I always thought it would be cool if one day my running would come in handy in some emergency situation, saving the day in some dramatic way.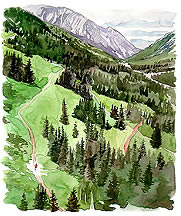 Dulcibella has brought that scenario to life with an entertaining story of a dedicated runner who finds the only way to rescue someone is to run miles for help, and he is just the one to do it!
I found that planning the illustrations was like imagining a movie scene by scene, and the story was my script. I looked for ways to portray the story in a realistic manner, but with a good deal of variety, since most pages would show dad running.
In the painting to the right, which shows dad training in the mountains, I wanted to show the scale of a mountainous landscape but with a runner moving through it.
To be sure you wouldn't miss the runner in the picture I left the area around him pure white, to your draw attention.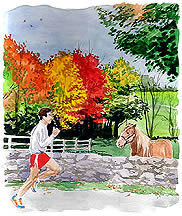 Part of the book describes dad running through the different seasons. To make it more interesting for kids, I tried to add animals to scenes, so there would something unexpected to find. I managed to include raccoons, geese, a deer, a rabbit and more throughout the book.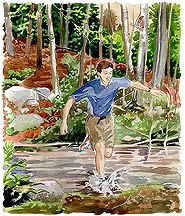 In the painting to the right dad has to jump a stream on his way to get help. For fun a bullfrog and a squirrel are hidden in this scene.
Consistency was important in telling the story with my pictures. On the day of the rescue, the clothes and details are correct for all the images for that day, down to the hand where dad wears his watch, and the color of his sneakers.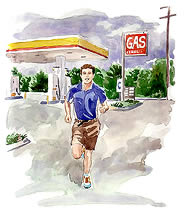 All the paintings were done in watercolor, which will give the book a lushly illustrated feel. I spent many hours putting as much into the paintings as I could. I hope kids enjoy it, I know my grandchildren will!
E-mail the artist at andy@runningpast.com


This book is available now for $15.00 plus $2.00 shipping.
Please e-mail us to reserve a copy.