Uta Pippig Begins a New Chapter at the James Joyce Ramble 10K
April 30, 2000

Three time Boston Marathon champion Uta Pippig made a smiling return to competitive racing Sunday at the James Joyce Ramble 10k in Dedham, Massachusetts.
For the past two years Pippig has been suspended from competing for failing a drug test, but the spectators lining the course welcomed her back with cheers and applause.
Uta lost contact with leaders Pauline Konga and Teresa Wanjiku by the four mile mark and cruised the last two miles comfortably in third place, acknowledging the enthusiastic crowd with her ever present smile. Uta finished over a minute behind the women's winner Pauline Konga, running 34:33, 5:34 per mile pace.

Surrounded by reporters and photographers while still in the finishing chute, Uta tried to catch her breath. "It was fun...it was fun," she said. "I was disappointed I couldn't hear the actors reading to the crowd." Passages from James Joyce's books are read aloud at the mile marks during the race.
The 34-year-old Pippig was suspended in 1998 for failing a random drug test. Her test revealed a ratio of testosterone-epitestosterone greater than allowed by international standards. This was not due to high levels of testosterone, but rather extremely low levels of epitestosterone.
Pippig has admitted to briefly using performance-enhancing substances while competing for East Germany during the 1980s. She denies using anything since then.
Post-race drug testing is mandatory for the top three runners at the Boston Marathon and Pippig never tested positive.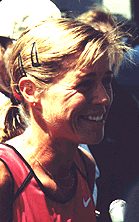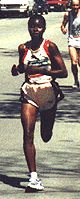 Uta was chasing the course record of 33:37 set in 1987 by Lorraine Moller of New Zealand.
That record would fall to women's winner Pauline Konga (right) who ran 33:10, 5:20.9 per mile.
Second place finisher Teresa Wanjiku also beat the old record, running 33:28.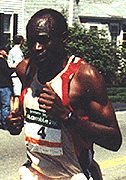 The men's race was won by Simion Karori in 30:22. That's 4:53.8 minutes per mile.
Uta is now pursuing US citizenship and hopes to be eligible to compete at the US Olympic Track & Field Trials in July.
All photos by Running Past