Profiles

John J. "Johnny" Hayes
The following was supplied by the Shore Athletic Club of New Jersey.
---------------------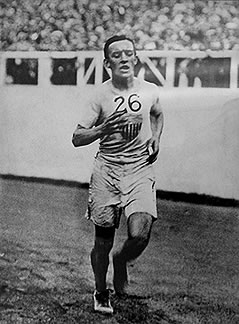 John J. Hayes is best known for winning the Olympic Marathon held on 24 July 1908 in London. The end of the marathon was such a colorful circumstance that it is talked about today by running aficionados. Additionally, Hayes was the first to win a marathon over the now official distance of 26 miles, 385 yards (42.195 km). He was one of two Americans, and the only one against a strong international field, to win Olympic marathon gold prior to Frank Shorter in 1972.
Hayes, an Irishman, living in New York City, was second across the finish line, but Dorando Pietri, an Italian, had run himself into a stupor. Pietri had entered the stadium first, by a wide margin, and in his daze, turned the wrong way. Officials managed to get him turned around. The NY Times of 25 July 1908 described Pietri as "Staggering like a drunken man, he slowly tottered down the home stretch. Three times he fell, struggled to his feet, and each time, aided by track officials, he fought his way toward the tape." This assistance caused him to be disqualified, and made Hayes the winner.
Video courtesy Joe Neanor
Hayes' time for the distance was 2 hours, 55 minutes, 18.4 seconds. The British Olympic Committee had wanted to start the race at Windsor Castle and finish in front of the royal reviewing stand. As a result, the distance was the now famous 26 miles, 385 yards (42.195 km). It took until 1921 for the IAAF to codify that distance for the marathon. Prior to this, races were usually about 25 miles.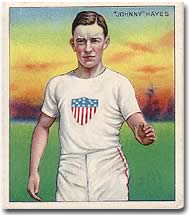 Pietri's struggles were rewarded. Queen Alexandra, the wife of King Edward VII, felt it appropriate to present him with a special gold cup. Not unlike what Julie Moss' struggles in the 1982 Ironman Triathlon did for triathlon, Pietri's dazed staggering captured the public's imagination and made both marathoning and the Olympics much more popular.
At the time of the Olympic victory, Hayes was an assistant to the superintendent of Bloomingdale's department store. The NY Sun of 25 July 1908 describes him as "The boy who made good in the toughest, most heartbreaking athletic contest in the world is only 19 years old, a slim, little nickeled steel athlete from his toes to the crown of his head. He stands just a shade under 5 feet 4 inches and he weighs 125 pounds. Jack Hayes is as Irish as you find them, with black hair, blue eyes, a good humored and freckled face and a ton of confidence in himself."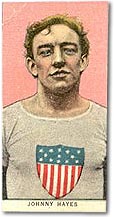 Other significant finishes in Hayes' resume included: fifth place at the 1906 Boston Marathon, third place at Boston in 1907, winner of the 1907 Mercury A.C. (now Yonkers) Marathon and second place in the 1908 Boston Marathon.
Hayes was a trainer for the 1912 Olympic team. He worked briefly as a sandhog, building the New York City subways. After marrying, he taught physical education and later became a food broker.
Hayes' daughter, Doris Hayes Hale, gave the Shore Athletic Club of New Jersey a collection of Hayes memorabilia with the understanding that it be used to further awareness of Hayes. A number of photographs on this page are from the collection.
Johnny's Olympic Gold Medal
Click image for large view

A letter from President Roosevelt
Click image to read the letter

---------------------
Pietri vs Hayes - The Rematches
| | |
| --- | --- |
| | After the dramatic Olympic battle between Dorando Pietri and Johnny Hayes, public interest was such that a match race was organized by professional promoters in November of 1908 at Madison Square Garden. The race would be 260 laps around an indoor track and this time Pietri was the victor, by 75 yards. |
| A second match race was held on March 15, 1909 and again Pietri won. Hayes did earn a good living running scores of races as a professional in his post Olympic career. | |
The First Shoe Endorsement Contract?
Well, it wasn't quite the first shoe deal, but Johnny Hayes did endorse O'Sullivan's Live Rubber Heels.

Posing with the company president, Humphrey O'Sullivan himself, the diminutive Hayes appeared in a series of magazine and newspaper ads promoting the heels' ability to eliminate the jar on your spinal column and brain.

As anyone could tell you, the name "O'Sullivan" on rubber is like "Sterling" on silver!


Click on photos for large versions
| | |
| --- | --- |
| | Here's a photo of Johnny Hayes (right) going for a jog with then boxing Heavyweight Champion of the World, Gene Tunney (center). This was taken in 1928 when Tunney was training for his final fight in Speculator, NY. That's Tunney's trainer Lou Fink on the left. |
Here's an autographed photo of Johnny with a few of his trophies.
Hayes Honored with a Statue in Nenagh, Ireland
If you travel to Nenagh in County Tipperary, Ireland, you will find life-sized bronze statues of three Olympians who can trace their heritage there. The achievements of Johnny Hayes, Matt McGrath and Bob Tisdall are commemorated by the statues in Banba Square.
Hayes was born in the US but his father and mother both were natives of Nenagh. Tisdall won a gold medal in the 400m hurdles in the 1932 Los Angeles Olympics and McGrath was a four-time Olympian, he won the gold medal in the hammer throw at the 1912 Stockholm Olympics.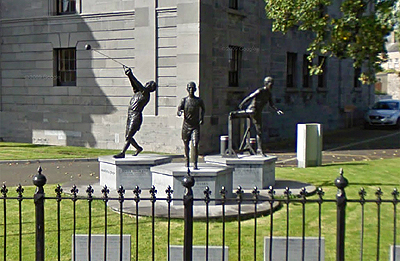 ---
Other Profiles
Johnny J. Kelley (The Younger)
Johnny running for BU
Marathon Artist
Andrew Yelenak - portfolio