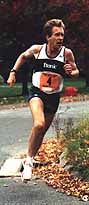 Born in Hartford, Connecticut on December 23, 1947, Bill grew up in nearby Newington. He ran cross-country at Newington High School and at Wesleyan University in Middletown, Connecticut. At Wesleyan, Bill was the roommate and teammate of Amby Burfoot the year Amby won the Boston Marathon in 1968. After college Bill left running for two years. He returned to competition in 1973 and never looked back.

His PR for the mile is 4:16.08, set in college. He set an American record for 30Km- 1:31:50, and a World record for 25Km - 1:14:12, on the track in 1979. Bill set American records in the 15Km - 43:39, 20Km - 58:15, and 1 Hour Run -12 miles 1,351yds, all in 1977.

The Olympics

Bill competed in the1976 Olympic Marathon in Montreal. Hampered by a metatarsal problem in his right foot, he stayed with the lead pack for the first 25k, then dropped off the pace to finish 40th in 2:25:14.

In 1980 the U.S.-led boycott of the Moscow Olympic Games eliminated Bill's chance for Olympic success.