Nov 12
World Record Set at NYC Mini Marathon 10K
June 8, 2002 - Conditions were ripe for something special. A cool bright morning in Central Park saw many of the world's best female athletes gather for the 30th anniversary of the NYRRC's "Mini" 6.2 mile race. The international field included Olympic gold medalists, world record holders, and a diminutive Moroccan who just may have been overlooked.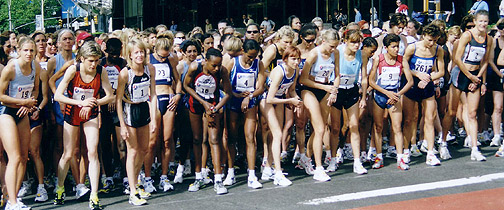 In 1972 the Women's Mini Marathon 10K was founded by Fred Lebow with help from Nina Kuscsik and Kathrine Switzer. It was the first "women only" road race in the world.

Switzer and Kuscsik ran again this year to celebrate the 30th anniversary, wearing t-shirts from the very early years of the race. Nina had knee surgery just two months ago but still managed to go the distance.

Click on thumbnail photos for a larger view

Deena Drossin of Mammouth Lakes, CA was on a hot streak and favored to win. She had won her last three races in a row and earlier this year she set a world record for a road 5K, running 14:54 at the Carlsbad 5000. That's 4:48 per mile pace!
Deena also finished 2nd at the World Cross Country Championships in Dublin, Ireland, leading the US to a silver medal in the team competition.
Other Americans entered were Olympian Jen Rhines and 2001 20K National Champion Milena Glusac.
Kenya was represented by Lornah Kiplagat, world record holder at the 20K and half marathon distances and two time winner of the LA Marathon.

Double Olympic gold medalist Derartu Tulu of Ethiopia and her 20 year old cousin, Ejagayou Dibaba, would be in contention.
As the gun fired, 4,700 women began the greatest race in the history of the event. The first mile saw a pack of four, Sonia O'Sullivan, Kiplagat, Drossin and Asmae Leghzaoui of Morocco, go through in 4:51, well under course record pace.
As the two mile mark was passed in 9:42, Kiplagat and Leghzaoui had opened a lead on O'Sullivan and Drossin. It was time to pick up the pace...Mile three came and went in 4:48 and the two leaders hit the 5K mark in 15:06. That is just off Deena Drossin's still fresh 5K world record of 14:54...With another 5K to go.
The hill in mile 4 put up slight resistance for the short, quick stride of the 5' 1" Leghzaoui, who recorded a 5:06 split. Kiplagat began to suffer from the torrid pace and fell a few steps back.
Asmae Leghzaoui was a last minute entrant in this race due to visa difficulties. The native of Fès, Morocco arrived in New York from Casablanca barely a day and a half before the start of the race.
Five miles complete in 24:26. Leghzaoui had just nailed her fastest split yet, 4:47. It was obvious now that not just the course record, but the world record was in jeopardy. Kiplagat was 5 or 6 seconds back, close enough to keep the pressure on.
Leghzaoui maintained a 5:02 pace over the final uphill mile to crush the world record by 10 seconds. She finished in 30:29.
Leghzaoui had a previous 10K road best of 31:03 run in January of 2001. She has demonstrated dramatic improvement in the past, shaving a full minute off her 3K best during 1999. For winning the race she receives $10,000 and an additional $5,000 for breaking the course record.

Lornah Kipligat finished second with a personal and Kenyan national record of 30:44.

Sonia O'Sullivan, Ireland's 32-year-old Olympian, is returning to competition after giving birth to her second daughter two days before Christmas. She finished 3rd in 31:22.

Olivera Jevtic of Yugoslovia finished 4th in 31:42
Ejagayou Dibaba takes 5th place in 31:44, beating her cousin, Derartu Tulu, by 1:19.

Deena Drossin finishes in a disappointing 6th,
1:39 behind the winner.
| | | |
| --- | --- | --- |
| | | Ludmilla Petrova was very familiar with finish line at the Tavern on the Green, having won the NYC Marathon here in 2000. She settled for 9th running 32:30. |
| | | | | | |
| --- | --- | --- | --- | --- | --- |
| Place | Name | Age | Country | Team | Time |
| 1 | Asmae Leghzaoui | 25 | Morocco | | 30:29 WR, CR |
| 2 | Lornah Kiplagat | 28 | Kenya | Saucony | 30:44 |
| 3 | Sonia O'Sullivan | 32 | Ireland | Nike | 31:22 |
| 4 | Olivera Jevtic | 24 | Yugoslavia | Fila | 31:42 |
| 5 | Ejagayou Dibaba | 20 | Kenya | Mizuno | 31:44 |
| 6 | Deena Drossin | 29 | CA | Asics | 32:08 |
| 7 | Jennifer Rhines | 27 | PA | Adidas | 32:19 |
| 8 | Eyerusalem Kuma | 20 | Ethiopia | Mizuno | 32:22 |
| 9 | Ludmila Petrova | 33 | Russia | Mizuno | 32:30 |
| 10 | Adriana Fernandez | 31 | Mexico | | 32:32 |
| 11 | Milena Glusac | 26 | CA | Adidas | 32:37 |
| 12 | Derartu Tulu | 30 | Ethiopia | Mizuno | 33:03 |
| 13 | Jane Omoro | 30 | Kenya | Puma | 33:11 |
| 14 | Elizabeth Yelling | 27 | England | | 33:18 |
| 15 | Beata Rakonczai | 25 | Hungary | | 33:34 |
All photos © Running Past 2002