The 2004 Boston Marathon Poster
For the second consecutive year, marathon artist Andrew Yelenak has created the painting for the Boston Marathon. This painting will be reproduced as a poster and limited edition lithograph.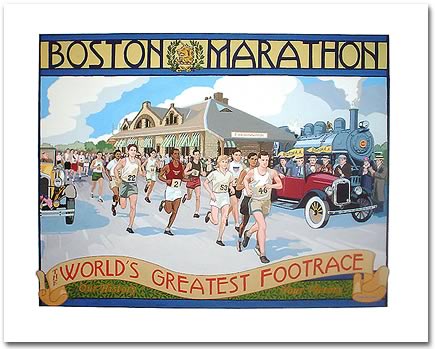 Click for a large image of the painting.
Andy Yelenak -
"This year we went with a 'retro' look. I wanted the poster to look like one that you might stumble across in an antique shop.
I chose a view of the Framingham train station because it has been a consistent landmark for thousands of runners through the decades. It also gave me a good excuse to include a vintage locomotive. The train along with the two old cars help portray this as a race from the twenties. The banner along the bottom is just my personal opinion..."

Email - andy@runningpast.com

The poster will be available from the Art of Running International
---