The 2001 Boilermaker 15K Poster
Artist Andy Yelenak has been commissioned by the Boilermaker Roadrace Committee to paint a commemorative poster for this year's race. Andy will update this page as the project progresses.
The Rough Sketch - Completed April 19th
I took a ride to Utica, NY in March to drive the race course and select a section that would make a good painting. I try to pick an area that is important to the runners as well as scenic. The finishline at the Boilermaker 15k has a dramatic arch and is surrounded by interesting architecture, especially the brewery. I photographed the area and created this sketch.
This sketch was approved by the race committee and the next step is to do a detailed base drawing on the watercolor paper where I will do the final painting.
I photographed runners and spectators at the 2001 Boston Marathon at similar angles to my sketch to use as reference for the final painting. I plan to finish the base drawing by April 30th. - Andy Yelenak
The Finished Painting - Completed May 23rd
I did complete the base drawing for the finished painting around May 5th. The base drawing is done in pencil on top quality watercolor paper, then I paint over it and erase the pencil lines when the paint is dry.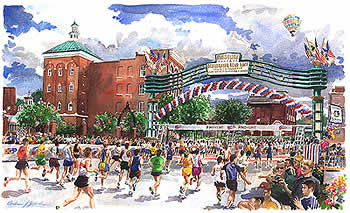 Click for a large view 127K File size
Here's the finished painting . I'm very happy with the outcome. The scene really lent itself to this kind of panoramic view, the buildings and the arch provide a dramatic sense of scale.
One thing that is always a challenge is painting a convincing sky in watercolor. I tried to work very loosely here yet still give the clouds a dimensional quality. The loose brush strokes in the sky are a nice contrast to tighter work of the rest of the painting. I hope the runners find this painting a faithful representation of their experience coming down the homestretch.- Andy Yelenak
The painting was shipped to the race committee on May 23rd. Next it goes to Dodge-Graphic Press to be scanned and printed as a poster. Romanelli Advertisting will design the layout of the poster.
E-mail the artist at andy@runningpast.com
---
Visit the official Boilermaker
15K Road Race web site:


The poster will
be available at: