The 2002 Boilermaker 15K Poster
25th Anniversary Edition
For the second consecutive year artist Andy Yelenak has been commissioned by the Boilermaker Race Committee to paint a commemorative poster for the race.
The Finished Painting - Completed April 23, 2002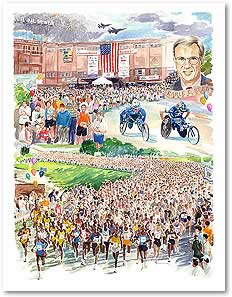 Click for a large view 116K File size
Last year I had a firsthand introduction to the Boilermaker 15K. I decided to run the race at the last minute with Bill Rodgers' brother Charlie, believing his promise to run slow, but not surprised when he left me on the hill at the 3 mile mark. I still managed to enjoy the spectacle of America's biggest 15K and it was great preparation for creating the 25th anniversary poster.
For my painting I decided to focus on the grand scale of the event, including the massive field at the start and the huge party at the finish. From beginning to end it's a memorable race and I hope some of the color and excitement comes through in my artwork, if not the sweat and determination. - Andy Yelenak
E-mail the artist at andy@runningpast.com
---
Visit the official Boilermaker
15K Road Race web site: