The National Distance Running Hall of Fame
Class of 2002 Induction Poster
John J. Kelley, Browning Ross, Bill Bowerman and Doris Brown Heritage have been selected as the 2002 inductees to the National Distance Running Hall of Fame in Utica, New York.
As part of the celebration Andy Yelenak has been commissioned by the Hall of Fame to produce a portrait of all four inductees. Copies of a poster of the artwork will be given away to everyone attending of the induction ceremony on July 13, 2002. The ceremony will take place at the Stanley Performing Arts Center in Utica.
The Finished Painting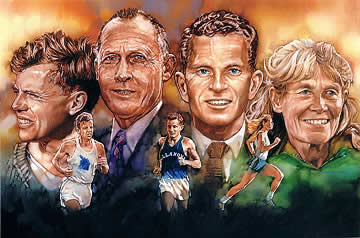 Click for a large view 116K File size E-mail the artist at andy@runningpast.com
From the Distance Running Hall of Fame's press release:
Bill Bowerman was the co-founder of Nike and a legendary coach at the University of Oregon, where he coached 24 NCAA individual champions, won four national team championships and coached the U.S. Olympic track and field team in 1972. He also created and developed the concept of lightweight, waffle-soled running shoes.

Browning Ross was an eight-time AAU cross-country champion and an Olympian, but his greatest contributions came off the beaten path. He was the founder and first president of the Road Runners Club of America, an organization that now has more than 200,000 members.

Doris Brown Heritage, long-time coach at Seattle Pacific University, is a five-time world cross country champion, placed on two Olympic teams, holder of 14 national titles and once held the world record for the 3,000 meters.

John J. Kelley's win in the 1957 Boston Marathon is credited with putting American distance runners – and the race itself – on the map. He was U.S. National Marathon Champion for eight straight years, was a two-time Olympian and finished second at Boston five times.
---