The 2000 Hartford Marathon Poster
For the fourth year in a row marathon artist Andrew Yelenak has created the painting for the Hartford Marathon's commemorative poster.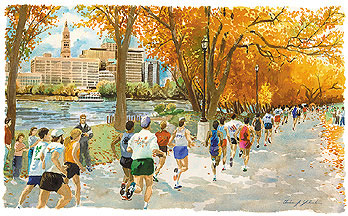 Click for a large image of the painting.
"The magic of the Hartford Marathon is simply running in New England in the fall. Once the course leaves the downtown area it passes through some classic New England scenery.
I chose to highlight the fall atmosphere by painting the park along the Connecticut River in East Hartford. The autumn colors, combined with a great view of the Hartford skyline, should create a memorable experience for the runners."
--Andy Yelenak


You can order a poster by sending a check or money order for $20.00 to:
Running Past
P.O. Box 1897
Wallingford, CT 06492
A new poster of
Steve Prefontaine

< Available Now!