The 1999 Hartford Marathon Poster
For the third consecutive year marathon artist Andrew Yelenak has designed and illustrated the Hartford Marathon's commemorative poster.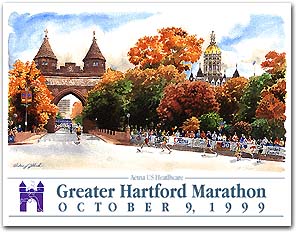 Click for a large image of the painting.
"Possibly the most dramatic stretch of the course for the runners, both visually and emotionally, will be the final turn and the run under the Soldiers and Sailors Arch to the finish line. As the symbol of this race, the arch was the perfect focal point for my painting"
--Andy Yelenak


You can order a poster by sending a check or money order for $20.00 to:
Running Past
P.O. Box 1897
Wallingford, CT 06492
A new poster of
Steve Prefontaine

< Available Now!