The 2002 Hartford Marathon Poster
Marathon artist Andrew Yelenak has created the painting for the Hartford Marathon's commemorative poster for the 6th consecutive year.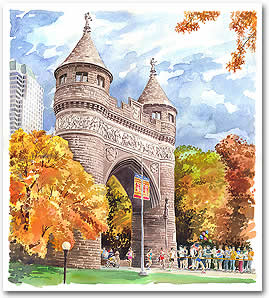 Click for a large image of the painting.
Andy Yelenak -
"Nothing symbolizes the Hartford Marathon more than the arch in Bushnell Park. The runners cross under the arch just at the moment when the finish line is in sight, you are home free at this point which is something you can't often say in a marathon.
I tried to convey the the towering impression the arch gives you, and it is as fine a sight at the end of a marathon as any other I know."

The poster will be available from the Greater Hartford Marathon.