The 2003 Boston Marathon Poster
Marathon artist Andrew Yelenak has created the painting for the 2003 Boston Marathon. This painting will be reproduced as a poster and limited edition lithograph.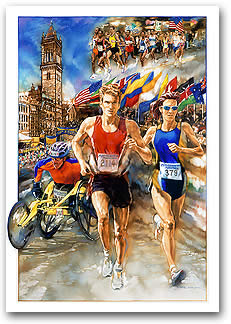 Click for a large image of the painting.
Andy Yelenak -
"From the runner's perspective the Boston Marathon is a blur of images, color and effort. I tried to create a dynamic painting to capture the feeling from inside the race.
With the sunshine on your right shoulder and Route 135 sliding past under your feet, you're just waiting to see that finish line, rehearsing in your mind what the last 100 yards will be like. It's like no other race in the world."


The poster will be available from the Art of Running International
See also the 2004 Boston Marathon Poster
---