If you had to get up early and shovel your driveway, if nobody will go with you to watch the race, if the glare off the snow makes you reach for your sunglasses...It must the Tradition Run.
It had been the mildest winter in recent memory. No snow for Christmas. No snow for New Year's Eve. But if you had watched the Patriots/Raiders Snow Bowl you knew that winter in New England arrived the night before the Tradition Run.
Five inches of fresh powder dropped on the mountain in Meriden on Saturday night, but race day would dawn sunny and bright.
Race Director Chris Bourdon arranged to have the course plowed...But no sand, thank you very much.
Sand is for wimps.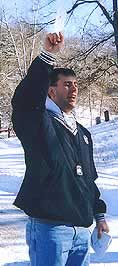 Race Director Chris Bourdon gives the final instructions.