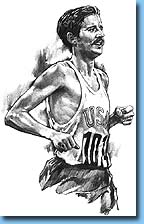 Frank Shorter as drawn by Andy Yelenak.
Each month features brilliant illustrated portaits of great runners, from pre-eminent sports artist Andy Yelenak; along with an extended area for recording larger trends.

Each month also has an essay by Mark Will-Weber and some interesting bits of running trivia. All in all, it's the perfect way to stay inspired, focused, and strong- for a year of running.

Any Quotable Runner Training Log ordered through Running Past can be autographed by artist Andy Yelenak at no additional charge.

Customer Response:

"They're great! My son will definitely enjoy it. I know I will. They are definitely the best running logs I ever saw."
--B. H. in Blackwell, NJ.
Price $12.95 plus $3.20 USPS Priority shipping. Ordering information.
"God has given me the ability. The rest is up to me. Believe. Believe. Believe."
--Billy Mills
Training diary entry prior to winning the Tokyo Olympics 10,000m.
"Standing at the starting line, we are all cowards."
--Alberto Salazar
"You have to forget your last marathon before you can try another. Your mind can't know what's coming."
--Frank Shorter