The Wanamaker Mile - Champions List
The highlighted event at the Millrose Games every February is the Wanamaker Mile. Every year since 1926 some of the greatest milers in the world have tested themselves in this classic race. In all the Internet the one thing we found missing was a list of the Wanamaker Mile Champions...So here it is.
We've done our best to compile the most accurate list we can from old Millrose Games programs and other web sites, and thanks to Millrose Games Meet Director Emeritus, Mr Howard M. Schmertz, we now have the complete record of these great Wanamaker Mile Champions.
(Update - December 2019: We made a correction, Niall Bruton of Ireland won the mile in 1996 not Marcus O'Sullivan as previously listed. Marcus finished second.)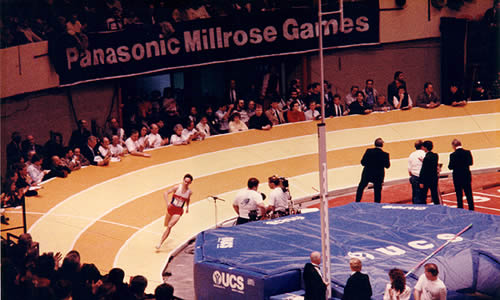 Marcus O'Sullivan 1989 Wanamaker Mile - Bell Lap - 3:54.27 © Running Past
Click for really big photo
For a complete list of all finishers of the Wanamaker Mile see:
http://www.tf-stats.com/millrose_m_mile.html
| | | | |
| --- | --- | --- | --- |
| Year | Name | Country | Time |
| 2022 | Ollie Hoare | Australia | 3:50:83 |
| 2021 | Meet canceled due to Covid-19 | | |
| 2020 | Chris O'Hare | Great Britain | 3:55.61 |
| 2019 | Yomif Kejelcha | Ethiopia | 3:48.46 |
| 2018 | Chris O'Hare | Great Britain | 3:54.14 |
| 2017 | Eric Jenkins | USA | 3:53.23 |
| 2016 | Matt Centrowitz | USA | 3:50.63 |
| 2015 | Matt Centrowitz | USA | 3:51.35 |
| 2014 | Will Leer | USA | 3:52.47 |
| 2013 | Lopez Lomong | USA | 3:51.21 |
| 2012 | Matt Centrowitz | USA | 3:53.92 |
| 2011 | Deresse Mekonnen | Ethiopia | 3:58.58 |
| 2010 | Bernard Lagat | USA | 3:56.34 |
| 2009 | Bernard Lagat | USA | 3:58.44 |
| 2008 | Bernard Lagat | USA | 3:57.91 |
| 2007 | Bernard Lagat | USA | 3:54.26 |
| 2006 | Bernard Lagat | USA | 3:56.85 |
| 2005 | Bernard Lagat | USA | 3:52.87 |
| 2004 | Hudson De Souza | Brazil | 4:02.93 |
| 2003 | Bernard Lagat | Kenya | 4:00.36 |
| 2002 | Laban Rotich | Kenya | 3:57.04 |
| 2001 | Bernard Lagat | Kenya | 3:58.26 |
| 2000 | Mark Carroll | Ireland | 3:58.19 |
| 1999 | William Tanui | Kenya | 3:59.24 |
| 1998 | Laban Rotich | Kenya | 3:55.69 |
| 1997 | Isaac Viciosa | Spain | 3:59.34 |
| 1996 | Niall Bruton | Ireland | 4:00.58 |
| 1995 | Graham Hood | Canada | 3:57.08 |
| 1994 | Niall Bruton | Ireland | 3:58.71 |
| 1993 | Noureddine Morceli | Algeria | 3:55.06 |
| 1992 | Marcus O'Sullivan | Ireland | 4:00.65 |
| 1991 | Noureddine Morceli | Algeria | 3:53.50 |
| 1990 | Marcus O'Sullivan | Ireland | 3:59.35 |
| 1989 | Marcus O'Sullivan | Ireland | 3:54.27 |
| 1988 | Marcus O'Sullivan | Ireland | 3:56.89 |
| 1987 | Eamonn Coghlan | Ireland | 3:55.91 |
| 1986 | Marcus O'Sullivan | Ireland | 3:56.05 |
| 1985 | Eamonn Coghlan | Ireland | 3:53.82 |
| 1984 | Steve Scott | USA | 3:59.38 |
| 1983 | Eamonn Coghlan | Ireland | 3:54.40 |
| 1982 | Steve Scott | USA | 3:55.37 |
| 1981 | Eamonn Coghlan | Ireland | 3:53.0 |
| 1980 | Eamonn Coghlan | Ireland | 3:58.2 |
| 1979 | Eamonn Coghlan | Ireland | 3:55.0 |
| 1978 | Dick Buerkle | USA | 3.58.4 |
| 1977 | Eamonn Coghlan | Ireland | 4.00.2 |
| 1976 | Paul Cummings | USA | 3.57.6 |
| 1975 | Filbert Bayi | Tanzania | 3:59.3 |
| 1974 | Tony Waldrop | USA | 3:59.7 |
| 1973 | Henryk Szordykowski | Poland | 4:04.4 |
| 1972 | John Mason | USA | 4:03.2 |
| 1971 | Marty Liquori | USA | 4:00.6 |
| 1970 | Marty Liquori | USA | 4:02.6 |
| 1969 | Marty Liquori | USA | 4:00.8 |
| 1968 | Preston Davis | USA | 4:03.9 |
| 1967 | Dave Patrick | USA | 4:03.7 |
| 1966 | Kipchoge Keino | Kenya | 4:03.9 |
| 1965 | John Whetton | England | 4:05.4 |
| 1964 | Tom O'Hara | USA | 4:00.6 |
| 1963 | Tom O'Hara | USA | 4:01.5 |
| 1962 | Peter Close | USA | 4:08.6 |
| 1961 | Islvan Rozsavolgyi | Hungary | 4:06.0 |
| 1960 | James Grelle | USA | 4:06.4 |
| 1959 | Ron Delany | Ireland | 4:06.5 |
| 1958 | Ron Delany | Ireland | 4:04.6 |
| 1957 | Ron Delany | Ireland | 4:06.7 |
| 1956 | Ron Delany | Ireland | 4:09.5 |
| 1955 | Gunnar Nielsen | Denmark | 4:03.6 |
| 1954 | Josy Barthel | Luxembourg | 4:07.5 |
| 1953 | Fred Dwyer | USA | 4:08.2 |
| 1952 | Don A. Gehrmann | USA | 4:11.2 |
| 1951 | Don A. Gehrmann | USA | 4:07.5 |
| 1950 | Don A. Gehrmann | USA | 4:09.3 |
| 1949 | Don A. Gehrmann | USA | 4:09.5 |
| 1948 | Gilbert Dodds | USA | 4:05.3 |
| 1947 | Gilbert Dodds | USA | 4:09.2 |
| 1946 | Leslie MacMitchell | USA | 4:19.0 |
| 1945 | James Rafferty | USA | 4:13.1 |
| 1944 | Gilbert Dodds | USA | 4:10.6 |
| 1943 | Earl Mitchell | USA | 4:08.6 |
| 1942 | Leslie MacMitchell | USA | 4:11.3 |
| 1941 | Walter J. Mehl | USA | 4:13.6 |
| 1940 | Charles H. Fenske | USA | 4:07.4 |
| 1939 | Glenn Cunningham | USA | 4:13.0 |
| 1938 | Glenn Cunningham | USA | 4:11.0 |
| 1937 | Glenn Cunningham | USA | 4:14.4 |
| 1936 | Joseph R. Mangan | USA | 4:11.0 |
| 1935 | Glenn Cunningham | USA | 4:11.0 |
| 1934 | Glenn Cunningham | USA | 4:11.2 |
| 1933 | Glenn Cunningham | USA | 4:13.0 |
| 1932 | Gene Venzke | USA | 4:11.2 |
| 1931 | Ray Conger | USA | 4:13.6 |
| 1930 | Ray Conger | USA | 4:21.8 |
| 1929 | Ray Conger | USA | 4:17.4 |
| 1928 | Lloyd Hahn | USA | 4:18.6 |
| 1927 | Lloyd Hahn | USA | 4:15.6 |
| 1926 | James J. Connolly | USA | 4:17.2 |