The 2002 New York City Marathon Poster
by Andrew Yelenak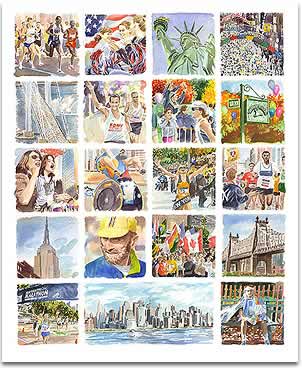 Click for large image
How do you represent all the different facets of an event like the NYC Marathon? This year we felt the only way to do it was with multiple images. There are 19 seperate watercolor paintings that comprise this year's poster.
From a portrait of race founder Fred Lebow to the skyline of the city, the spirit, the color and the drama of the race can all be found in this collage. I wish the best of luck to everyone training for this year's race. - Andy Yelenak email andy@runningpast.com
The poster and limited edition lithograph will be available
from The Art of Running on September 15, 2002.