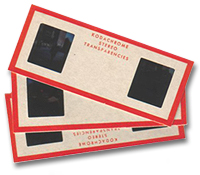 Stereo photography has been around since the 1850s, a technique where two images are taken from slightly different vantage points, roughly the distance between eyes. Initially this was done with a single lens camera which would take one picture, then be shifted to the side to take a second shot.
Dual lens cameras were created to simplify the process, and it is just our luck that an amateur photographer attended the 1954 Boston Marathon with his trusty stereo slide camera. He caught the leaders as they headed to the finish line, including the great Jim Peters and Veikko Karvonen.
There are a number of ways to view stereo pictures. What we've done is created simple animations, where the picture switches back and forth between the two views, giving a sense of depth to the pictures. Click on a picture to get the 3D view. Each file is about a 200K download so it will take a second for the animation to kick in.