The 1918 Boston Marathon Military Relay
1st Class Gunner F. B. Hart was drafted to run and wrote to his aunt about his Boston exploits.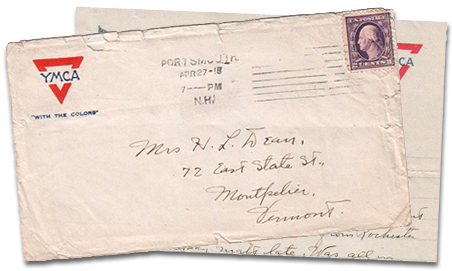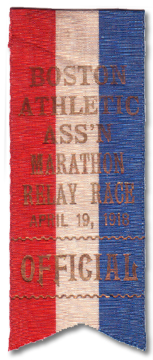 In 1918, The Great War was raging in Europe for the fourth year. The United States was on full war footing by April, having declared war on Germany a year earlier.
The Boston Athletic Association canceled its regular marathon and attempted to honor our servicemen by running a military relay race instead. 14 teams from different branches of the service competed, each consisting of 10 men running 2.5 miles each.
F. B. Hart was stationed in Springfield, Massachusetts at the time and soon found himself on a train to Boston to compete in a very unusual Patriots Day run.
This letter written by Mr. Hart to his Aunt Mary was recently unearthed. The sections in bold text below pertain to the race.
An official's ribbon from the 1918 Military Relay
-------------------------------------------------------------------------------------------
April 27, 1918
Mrs H. L. Dean
72 East State Street
Montpelier , Vermont
Wednesday P.M.
Dear Aunt Mary-
Probably mother has written you all about the last part of my visit home but perhaps you didn't know about the Boston trip. I got back from Rochester last Wednesday night late. Was all in and slept all Thursday morning. We had a relay team all picked out to go to Boston to compete in the big Track Meet last Friday but the last minute one fellow backed out + five minutes before leaving time the Lieutenant in charge called me up + said it was up to me to go with them. I quickly inquired when we had to come back + he said not till Saturday night. I didn't know whether I could run 2 1/2 miles but said I'd go + did. We stayed at the Service Club Thursday night + finished 11th in the race Friday.
We went out to the Breeds late in P.M. after seeing the Parade +Luella + I came in town + saw "The Man Who Came Back" at the Plymouth in the Evening. Saturday morning we went around in Roslindale + also visited with the two Mrs Pierces were down to Dr Breed's having dentistry done. In the P.M. we had lunch at Filenes + then saw the "Revue" + then she went to the station with me + I took the 7:30 home with the rest of the runners. It was a fine trip and it is a great satisfaction to me to know that I am as well + strong as I ever was. A run like that is a great strain on anyone. The last 1/2 mile was hard but the crowd kept a fellow keyed up + I finished as good as any of them.
Our two Batterys have gone + the 13 of us are over in the new Barracks where we were waiting for recruits. They will begin coming Friday. Hope we get Vermont boys because I may know them. Frank goes Friday to Jacksonville to quartermaster school. You see on account of the bad eye he couldn't continue in this brand of the service. It will be fine for him but he didn't want to leave us + I will miss him terribly, we have been such good chums. Beside my own work I'll probably have to do a lot of typewriting till we can break in some new fellow. I think the chance for me to go to Officers Training School is mighty slim. I'll probably be shipping out in a couple of months. The new fellows won't get such extensive training as we did. I have now been made 1st Class Gunner + have my new chevrons. Feel pretty big too. Probably you will notice that I don't paragraph any more. But promise to do better next time. Mother + Dad were both much better than I expected. Of coarse it's hard for them but they must buck up. Am returning the Smileage Book.
Love to you both.
F.
-------------------------------------------------------------------------------------------
The Military Relay finishers medal awarded to
Chauncey Eaton - Team K - Naval Cadet School, Cambridge
(Medal photos courtesy of Gerard Ottaviano)
\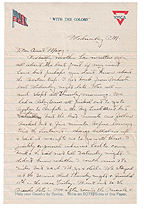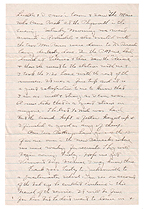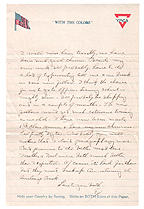 Scans of the letter - click for larger images
The relay was run on Friday, April 19, 1918. At that time the Boston Marathon was run on whichever day of the week Patriots Day fell. The men racing had no particular training in long distance running, as Mr. Hart admits.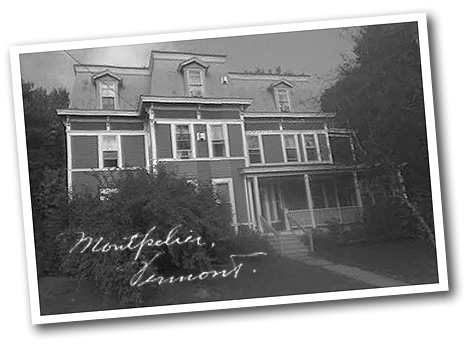 This is Aunt Mary's home in Montpelier, Vermont where the letter was sent.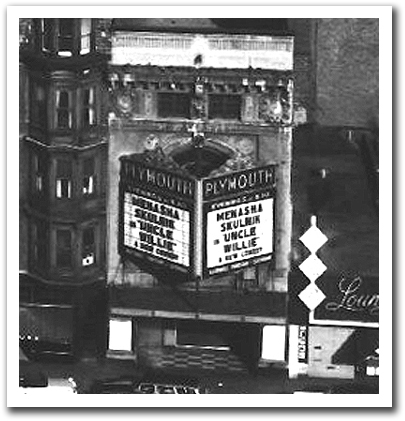 The evening after the race Hart went to see, "The Man Who Came Back" one of the
best known plays by Jules Eckert Goodman at the Plymouth Theatre in Boston.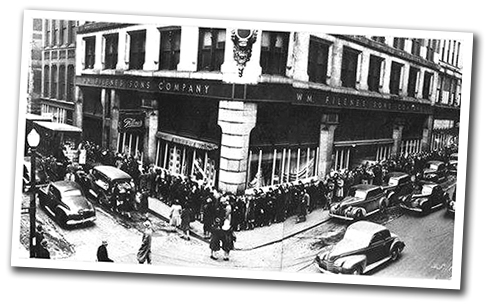 The next day Mr. Hart had lunch with a friend at the Boston Filenes.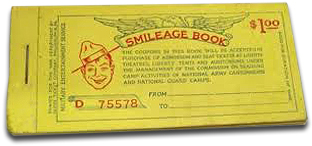 In the letter Hart mentions returning a "Smileage Book" which was purchased
for servicemen so they could attend "clean entertainment".
1918 Boston Marathon Military Relay Race Results
| | | |
| --- | --- | --- |
| 1. | Camp Devens Divisional Team (Team M) | 2:24:53 |
| 2. | 302d Infantry Camp Devens (Team N) | 2:28:10 |
| 3. | Boston Navy Yard (Team A) | 2:28:45 |
| 4. | 301st Field Signal Battalion Camp Devens (Team O) | 2:29:14 |
| 5. | Naval Cadet School (Team K) | 2:29:23 |
| 6. | 391st Infantry, Camp Devens (Team P) | 2:32:20 |
| 7. | Bumkin Island (Team G) | 2:37:20 |
| 8. | U.S.N Radio School (Team L) | 2:44:26 |
F. B. Hart's Team, Springfield Armory Springfield, MA (Team C) finished 11th.
Many thanks to B.A.A. Vice President Gloria Ratti for her assistance in identifying the letter's author (we only had the letter "F" as his signature) and for providing the relay race results.