Some world class running talent paid a visit to New Haven, Connecticut this past Labor Day, and the city's 20K road race will never be the same.

Khalid Khannouchi (MOR) and Colleen De Reuck (RSA) solidified their status as the best road racers in the world by setting world records in the men's and woman's races, shattering the previous best times for the course. Khannouchi ran 57:37, (That's 4:38.79 per mile folks!) breaking Salah Hissou's (MOR) 1994 WR of 58:20 and Greg Meyer's 1983 course record of 58:24.

De Reuck equaled the women's WR of 1:05:11 (5:15.4 per mile) set by Wang Xiu-Ting (CHN) in a wind-aided performance in 1993. She also broke Rosa Mota's 1985 course record of 1:05:38.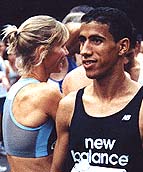 Colleen De Reuck and Khalid Khannouchi are all smiles lining up for the start of the flat, fast, New Haven 20K.